I have never been the athletic type, although I've always wanted to get engaged in sports. I can barely breathe after a few minutes of jog and, in my opinion, my built is not suitable for sports. I spent elementary and the first two years of my high school dealing with books and friends and crushes. :p Then came the summer of 2005... I was invited by a friend to try out for our school's cheering squad, the School of Saint Anthony (SSA) Seagulls Pep Squad. I cannot tumble or do splits then and I dance awkwardly. Fortunately, most of the members are graduating and they need all the students that they can recruit and train to keep the team going. I did not know what to expect, but I know it's going to be tough.
My seniors! SSA Pep Squad Batch 2003- 2004 - JNJ Champions
They say cheer leading is not a sport. People just got it all wrong. Cheer leading needs (LOTS of) discipline, including the exhausting and deadly training after school and on weekends, watching what you eat and as well as keeping up with your academics. The training, by the way, consists of cheer dance, gymnastics, ballet, hip hop and jazz classes. You just can't absent yourself from any training unless there is a very important reason for you to do so. It's not that you'll get kicked out of the team, but you would not be able to gain new skills. Cheer leaders are versatile performers and athletes. And we are not mean girls, just like what the movies portray. We are a family in our team! And even if we are now in our separate ways, we still communicate with each other and reminisce our days. :)
With my cheer family! :)
Having no background in gymnastics and dance, this great experience has taught me to exceed my limitations. I can still remember when I first learned to do the perfect cartwheel. It was two weeks before my first competition and my knees are still bent whenever I do a cartwheel. My gymnastics coach told me that I have to do it right because my team is counting on me. That conversation served as an inspiration for me to persevere more. I was able to do a cartwheel without bent knees on the day of the competition and thereafter. There was also this another instance where I was scared to fly. Everyone was required to fly in least one pyramid sequence. Honestly, I am not that good of a flyer. I could only do the basic stuff and I was asked to do some complicated routine. My coach told me to trust my lifters and myself and I would be able to do it. And I did! To top that off, we won nationals! :)
Alabang Town Center Cheerdance Competition 2005 - Champions!
Central Colleges of the Philippines Cheerdance Competition 2005 - Champions!
That's me on the left. ;)
My last competition! National Cheerleading Championship - Champions! :)
Whenever you learn a new skill in cheer leading and gymnastics, you just want to exceed what you can already do. I started with a cartwheel, then front walk, then back walk, then side aerial, then backhand spring, and so on. The skills are endless and it is up to you to best yourself! Unfortunately, I have already retired from cheer leading and I don't think my c-section scar would allow me to tumble again. :) But I still feel accomplished, that being someone clueless with the sport, I was able to do my best and win all of my competitions. I can now run for 10 minutes without feeling like I'm dying. I was able to acquire a great physique which amazingly shrank fast after I gave birth. I can still do fancy cheer leading stuff such as scorpions and heel stretches that I never imagine that I would be able to do. These accomplishments would not be possible without the help of my team mates and my amazing and patient coaches! I would definitely not be able to exceed my limitations if not for the trust that they gave me.
Some fancy stuff that I learned. :)
Since cheer leading is a very physical sport, I don't think it is possible to exceed your limitations if you are bothered with bad hygiene. Of course, with all those daily strenuous training, it is important to keep a good hygiene for you and your team mates also who would be lifting you. Thank God for the new Safeguard Active with 12-Hour Odor Protection! It could help athletes to exceed their limitations and their personal best just like Coach Rio Dela Cruz. To know more about him and his accomplishment, better check out this video here:
#BeatCoachRio by Safeguard Active
. :)
As for my most favorite cheer team, it is no other than the UP Pep Squad! Don't forget to watch and support them at the UAAP Cheerdance Competition at the SM MOA Arena on Saturday or on Studio23. :)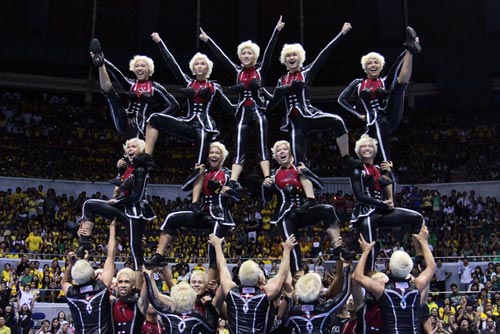 Photo from Google Images
How about you? How did you exceed your limitations? :)
XO, Mish
Tweet